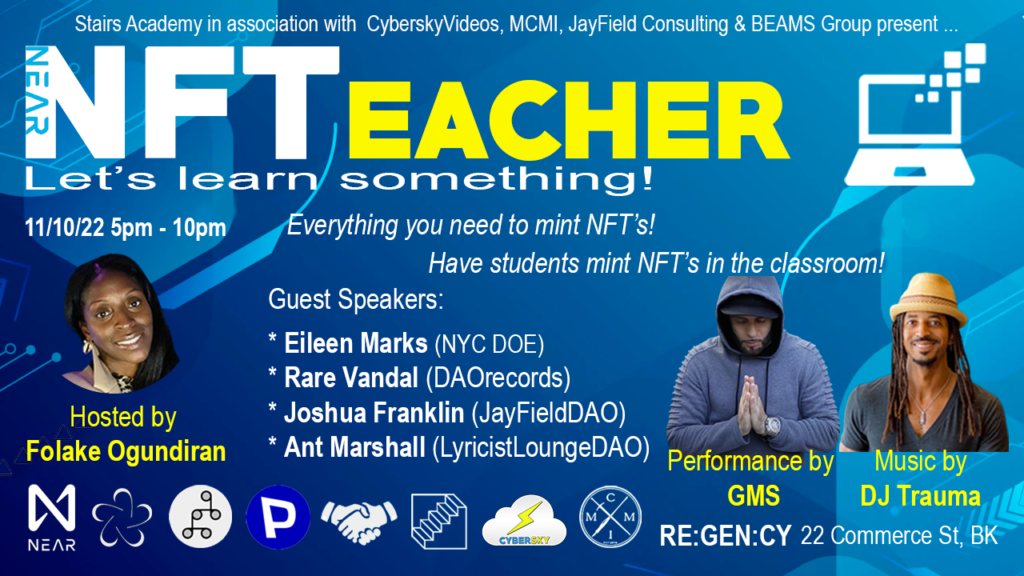 Everything You Need To Mint NFT's (& Teach Your Students, Too!)
An Interactive Tech Event for Teachers & Creatives! Create NFT's!
Sponsored by NEAR Foundation; Performance by GMS ("TEACHER")
Thu, Nov 10, 2022, 5:30 PM EST
REGENCY::event venue and community space::22 Commerce Street Brooklyn, NY 11231
Powered by
Stairs Academy, in association with Cybersky Videos, JayField Consulting, MCMI Records, with support from the NYC DOE
NFTeacher
An Educational, Interactive Blockchain Event for Teachers & Creatives!
Sponsored by NEAR Foundation
Hosted by Folake "Flo" Ogundiran (BEAMS Group)
DJ Set ((To Be Announced))
Performance by GMS (MCMI Records, Song TEACHER out now)
Presentations by
Folake 'Flo' Ogundiran (Co-founder: BEAMS Group/NEAR)
Eileen Marks (DIIT, NYCDOE)
Joshua Franklin (Founder: JayField Consulting DAO)
Graeme Sibirsky (NYCDOE, Founder: Stairs Academy, Cybersky Videos, MCMI)
Ant Marshall (Founder: LyricistLoungeDAO)
Rare Vandal (DAOrecords)
Topics of Discussion
What are NFT's?
How can they help empower Artists?
How can we make, market and sell NFT's? (Tutorial)
How can Teachers leverage blockchain technology in the classroom?
How can NFT's empower Teachers, Students and School Communities?
Pathways to careers in blockchain technology.
All attendees will leave with a NEAR Wallet and Proof of Attendance NFTs!
One attendee will be selected to receive a $150 Amazon Gift Card!
Complimentary Drinks & Refreshments, while supplies last
Limited Space: RSVP only
Location: RE:GEN:CY – 22 Commerce Street, Brooklyn NY
SCAN Flyer or REGISTER by email rsvp |at| StairsAcademy.org